"Ioan Bogoslov". The picture by P. E. Chekhov (a father of Anton Chekhov) is situated in the museum in Yalta
Chekhov's museum in Yalta (White cottage)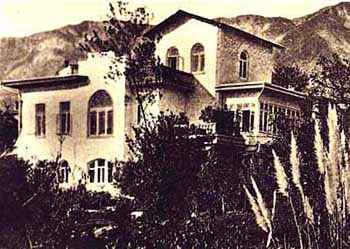 Chekhov moved to Yalta on the advice of doctors in the 1898 Writer bought a plot of land and build a two-storey house with mezzanine, was dubbed contemporaries White testimony ". Here Chekhov wrote play "Three Sisters" and "Black Garden", "Lady with stories sobachkoy", a tale "The gulley" and others ready for assembly own essays. In Yalta Chekhov met Bunin, Gorky, Kuprin, Korolenko, Shalyapin, Rachmaninoff. The museum was founded in USSR by his sister M.P. Chekhova. Now museum known as the initiator and organizer of the International scientific conference "Chekhov's reading in Yalta".
For the first time in Yalta was passing through Feodosiyu in July 1888 from July 17 to August 9, lived in giving Farbshteyna, wrote a novel "The tedious story." In the spring of 1894 came for treatment from 5 March to April 5, lived in the hotel "Russia" (N 39), wrote the story "Student". In September 1898 comes in the fall for treatment and decide to settle here. In October buys land in the village of Upper Autka near Yalta, built a two-storey house (dubbed contemporaries White testimony) and a garden. At that time lived on the testimony Busheva "Strateiz" (Pushkin Boulevard, 31), then make Ilovayskoy "Omyur (Kirova, 28) and the Hotel Marino." September 9, 1899 moved with his mother and sister in a new house. The last departure from Yalta-May 1, 1904.
The plan of the museum's territory in Yalta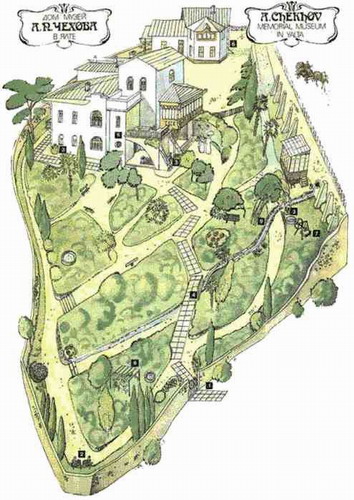 1. Entrance to the museum
2. Gorkovskaya bench
3. Receptacles for water
4. Bridging the stream
5. Giving White-house Chekhov
6. Block
7. Well
8. Pavilion
9. Bamboo grove
Museum Address : 98637, Ukraine, Crimea, Yalta, Kirova street, 112. Drive can be trolleybus No. 1 before stopping "Pioneers" or No. 8 bus stop at the Museum of A.P. Chekhov says. "
Hours : The museum is open from 10 to 17 hours. Entertainment-Monday, Tuesday (1 June to 30 September-only Monday).